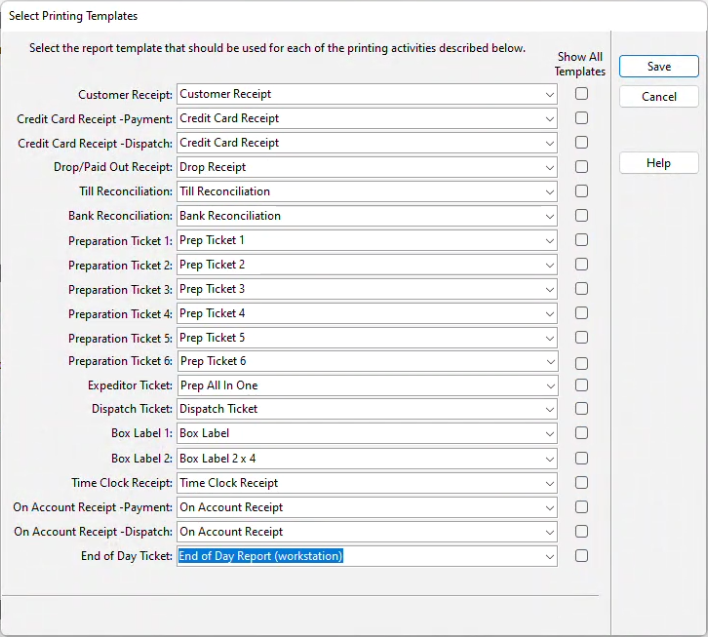 There are many printing templates that should be set up in order to assign output from the Point of Success Order Entry program. Each type of receipt is assigned to a specific output format. Default types have been included with the installation of the program. If a particular field is left at the default 'None' that type of ticket will not be printed. All tickets must be assigned a type for proper printing.
To assign a Printing Template type, click the drop down arrow adjacent the field to be filled in. A list of templates will be displayed. Select from the list to assign the template. If no ticket is necessary, choose 'None.' For example, if there are only two prep stations, leave the template assignment for Preparation Ticket 3 - 6 set to 'None'.
The check box column labeled "Show All Templates" next to each template setting allows the user to see all templates regardless of type. The templates are filtered by default to only display relevant templates to the setting. Showing all templates allows the user to assign templates that do not fit the criteria used to filter the list. Assigning templates that do not fit the specific criteria is hazardous because the templates are function-specific. The filter applied is based on the name of the template, not on its function. If a template has been modified and the filter name is not part of the template name, the new template will not show on the list by default. Checking the "Show All Templates" box will allow that new template to be displayed in the drop down list and assigned.