Installing Point of Success using Application Manager
The Point of Success installation program that installs and tracks version numbers and updates is called Application Manager. Using Application Manager is easy and allows the user to ensure all software in properly installed and up-to-date. There are four (4) tabs on the Application Manager that perform different functions. All four tabs are enabled on the server computer (the computer housing the database. On a workstation installation, the "Download" tab is disabled. Downloads need only happen on the server computer. All workstation computers use Application Manager to install the software and gather the proper files fir installation from the server computer. No files need be downloaded on the workstation.
Instructions on how to use the Application Manager software is displayed on the first tab of the software called "Instructions."
The second tab in Application Manager is the Download tab. Software version available for download are displayed in this tab. The software that is available on the Internet (in the Cloud) is displayed in a list along with the Available version number. The existing version numbers of the same software that is stored locally are displayed for reference and comparison. Installation help is always available from Inborne Technology Corporation by calling (800) 752-3565.
The Install Software tab lists the software versions available for installation along with the software already installed. If the two version differ, the Application Manager will automatically select the software to install. Shift-Click is enabled along with speed buttons at the bottom of this tab to allow for easy selection and installation.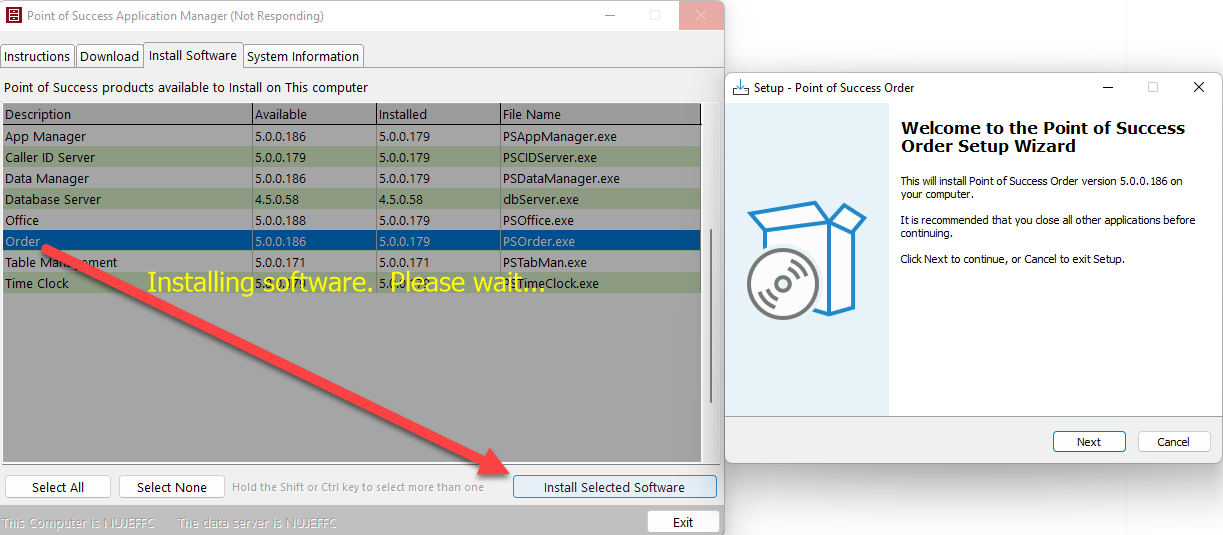 Clicking "Install Selected Software" will install the software for each line selected. Follow the installation wizard to complete each installation.
Software Registration
Software registration is done by Inborne Technology. Application Manager accesses the user's account and is able to determine registration details about software licensing, user count, technical support arrangements, credit card processing details, etc. All this information is housed in one place and is accessible through the Internet. An Internet connection is required for the software to be properly licensed and enabled. Software that is available for installation will be displayed. Additional software that may not be listed can be purchased from Inborne Technology. After purchase, the software will be available for installation.
After Installation
Launch the Office Manager program, set up your system administrator user, and then go to the Tools center to begin setting up Point of Success for your restaurant. More information including detailed descriptions of every part of the system can be found online.